Frequently Asked Questions
Im not a registered Rider, can I still race in the BMB?
Yes of course the BMB is open to all riders to enter.
Non registered Riders will need to hire a transponder and purchase a one event race licence for the event which costs £20. These are available to book when entering online or at rider sign on if entering on the day.
It's worth noting though that spaces for some grids and hire transponders are limited so always best to pre enter and book in online to make sure your place is booked and a transponder is available for you.
What age groups can ride with the BMB?
We have classes available for all age groups 7 and above.
Juniors:
7 to 10 years  = JSM / Mini GP 90
8 to 12 years = Ohvale 110 Cup
10 to 14 years – Ohvale 160 Cup
9 to 15 years = JSM / Mini GP 140/50
12 to 15 years = Mini GP 190/70
Adults:
14 and over = Stock 140
14 and over = Stock 160
14 and over = Superminis
40 and over = Veterans
14 and over = Mini GP 190 Senior
I already own a bike what is required before i can race it?
All the details of what is required regulations wise can be found on the Class & Regulations page which can be found here 
ALL BIKES must have the following:
BOBBINS – Drilled Axles with Crash Bobbins firmly fitted. (you can attach bobbins to the Fork Legs or Attached to the Swing Arm but they must be firmly in place and in a position that stops the axles digging into the track surface in the event of a crash.
KILL SWITCH – All bikes must be fitted with a WORKING Kill switch to the LH Side Handle Bar.
HAND GUARDS – Wrap around hand Guards must be fitted to all Super moto-style machines. The Guard should be fully wrapped in Nylon so that No metal section of the Guard should be able to come into contact with the tarmac in the event of a crash. To comply with this you may have to fit a nylon end bar to the handlebar.
NYLON BAR ENDS – All  Mini GP Bikes must be fitted with Nylon ends to the handlebars.
SUMP PLUGS – All Bikes must be fitted with a drilled sump plug that must be lock wired in place.
OIL FILLER CAPS – All bikes must be fitted with a drilled oil filler cap that must be lock wired in place.
PEG SLIDERS /BOBBINS – All Supermoto Style bikes must be fitted with either Footpeg sliders or Bobbins with NO metal bolt or edge able to contact the Tarmac in the event of a crash.
NYLON PEG ENDS – All Mini GP Style bikes must be fitted with Nylon Foot Peg ends with NO metal bolt or edge able to contact the Tarmac in the event of a crash.
OVERFLOW / BREATHER PIPES – All overflow and breather pipes must end in a suitable plastic or metal container such as a small drink can. This must be firmly attached to the frame of the bike and must be sealed.
CATCH TRAYS – All Supermoto Style bikes must be fitted with a metal catch tray that can hold at least 1.3 times the oil capacity of the machine it is fitted too.
SEALED BELLY FAIRINGS – All Mini GP Style bikes must have the bottom Belly Fairing in place at all times and this must have a sealed section capable of catching the oil contents of the engine should it leak.
EXHAUSTS – All Machines must have adequately packed and baffled exhausts to obtain an exhaust noise level of below 98dba when tested on a trackside drive-by test and below 105dbA when tested in a static text.
What is the benifit of becoming a Registered Rider and How do I become one ?
Registered Riders have the following benifits.
DISCOUNTED  TRANSPONDER LEASE AVAILABLE

 – You will receive your Mylaps Transponder with a full years subscription paid. This also saves you hiring a transponder on the day-saving approx £250 per year.

REGISTER YOUR CHOSEN RACE NUMBER FOR YOUR CLASS

 – You can choose a unique race number for your chosen class/s. This is then your number and cannot be used by other riders in those classes. 2020 Members have until January 3rd 2021 to renew their membership and number registration. If you choose a number that has already been registered you will be notified within 10 to 14 days and asked to re-choose.

PRIORITY ENTRY

 – The championship is growing fast and spaces on grids are snapped up quickly. As a registered rider, you will gain priority entry to all of our events. Entry will open to registered riders first before entry is opened up to the general public.
To become a Registered Rider click here , Log in or set up an online profile on the Alpha System then choose the Registration option you require.
New Registered Riders requiring a transponder = £99.99
New Registered Riders with their own Mylaps Tr2 or X2 Kart Transponder = £39.99
Existing Registered Riders Renewing but require a Mylaps Transponder = £79.99
Existing Registered Riders Renewing with their own Mylaps Tr2 / X2  Kart Transponder = £29.99
Where can I buy a Race Ready Bike From?
Visit our sponsor's pages. There are several companies involved in the championship that offer good value for money race packages. Also when buying through these companies you will have trackside support should you have any issues.
I've heard that the format of the race weekend has changed this season, what has changed?
Yes we have changed the format for the 2021 season onwards as follows.
NEW EVENT FORMATS
After consulting with the Riders Reps to try and react to the input and feedback gained from their riders we have come up with the following formats. Obviously, we can't accommodate everybody's wishes but this format does address most of them.
SENIORS
The Format is Designed to maximise track time and not be affected by additional junior classes etc also creates more competitive (Race) track time for competitors.
SATURDAY
PRACTICE 1
PRACTICE 2
QUALIFYING 1
SATURDAY CUP RACE (separate championship)
Those doing the Saturday will get to take part in the new Saturday Cup Championship which we hope to attract prizes etc from sponsors for.
SUNDAY
WARM UP / QUALIFYING 2
HEAT 1
HEAT 2
FINAL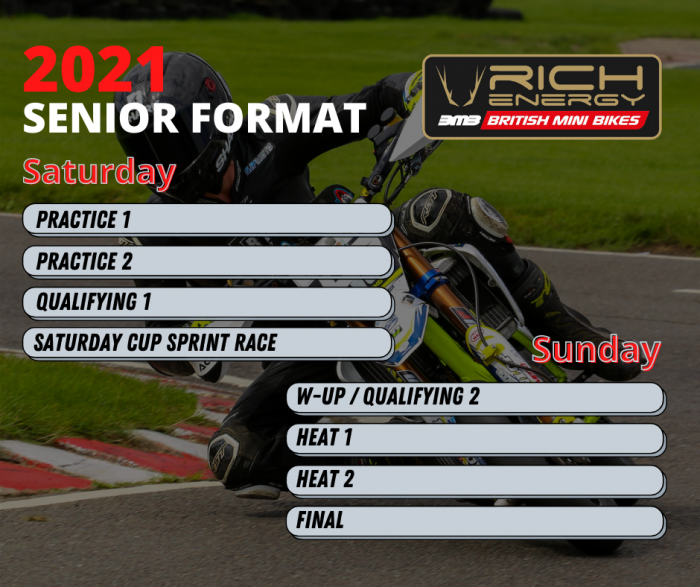 This allows those seniors that can't make Saturdays due to work/child care commitments etc to still take part in the main championship although they will have a disadvantage of having a shorter qualifying session in the morning and won't have been able to practice Saturday.
Both Saturday & Sunday qualifying times will be merged to find the grid position for Heat 1
Heat 2's starting grid will be taken from the finishing position set in Heat 1
The Final's starting grid will be set by the highest points scored in Heats 1 and 2
Points for both the heats and the Final count towards the championship table.
THE ABOVE FORMAT GIVE US APPROX 58 MINUTE OVER RUN BUFFER TO ALLOW FOR INCIDENTS THROUGHOUT THE DAY BEFORE THEY START TO AFFECT TRACK TIME ETC
JUNIORS
This format is Structured to be as similar to BSB formats as possible.
SATURDAY
PRACTICE 1
PRACTICE 2
QUALIFYING
RACE 1
SUNDAY
WARM UP
RACE 2
RACE 3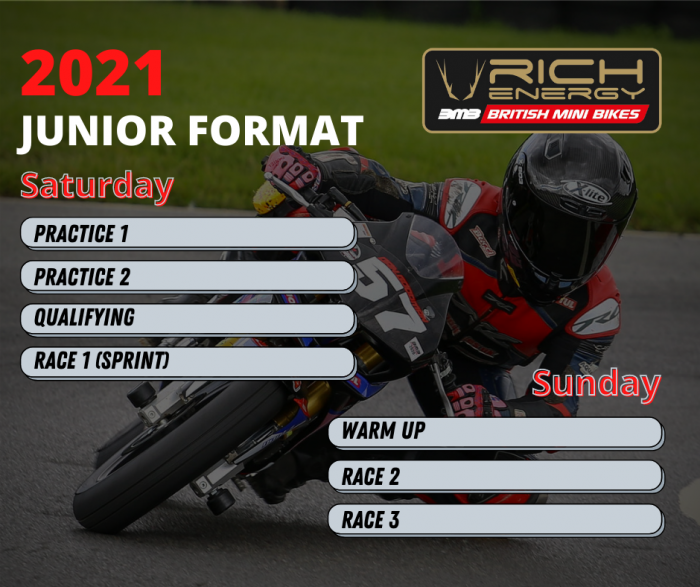 Race 1 start grid will be determined by the fastest lap in qualifying
Race 2 Grid will be determined by the finishing position in Race 1
Race 3 Grid will be determined by the finishing position in Race 2
Points from all three races count towards the championship table
Trophies will be awarded to the top 3 riders with the highest points total in each class over the weekend.
THE ABOVE FORMAT GIVE US APPROX 58 MINUTES OVERRUN BUFFER TO ALLOW FOR INCIDENTS THROUGHOUT THE DAY  
BEFORE THEY START TO AFFECT TRACK TIME ETC
I have Registered for the 2021 Season when do I get my Transponder & Licence?
You collect your Transponder and Licence at the first event you enter for the season along with your annual race licence. It will be pre-charged and allocated to you on our system ready to use with the BMB.
When entering your first event in the section that asks for a transponder number please enter "TBC" or " To Be Collected", the system will then detect you are a new member requiring a transponder and will allocate one of them to you.
During the Covid restrictions, these will be placed in numbered boxes for you to pick up whilst social distancing. At the event join the socially distancing Queue and then when at the front of the queue you will see a list of riders names in alphabetical order, the number shown against your name is the box your transponder and licence are in. Collect and then exit out the opposite side. Once you have your transponder and licence please edit your online profile and update it with the correct tx and licence numbers.
Digital Sign On ? what is this and how do i use it?
Since the COVID Pandemic, we are changing the way we do things to comply with government legislation and to minimise contact between riders and also between riders and our staff/team.
All riders entered for an event will be emailed a link to sign on which must be completed before the event in question. You must use a smartphone or tablet to load the link, thoroughly read the declaration and then sign with your finger in the box shown.
You will also be asked to view the online riders briefing and briefing notes that cover the event. Failure to do either of these will result in you not being able to take to the circuit and the loss of your points if found to be on the circuit without signing the declarations.
At this stage, you can enter the details of the person's attending with you. Please be warned that due to the current Covid Prevention Regulations, persons not named on the list cannot be allowed entry into the event.
I have an existing MyLaps transponder, will it work on your system?
Unfortunately, we won't know this for sure until we test it. We have been told that they should but again without testing them its impossible to know for sure. The best thing to do is try it in Practice and if it fails to pick up correctly, either hire one of our transponders for the weekend or upgrade your Registration to one including one of our transponders.
We are using the new Mylaps TR2 or X2  Kart Transponders.
** WE DO NOW KNOW THE MX VERSION OF THE MYLAPS TRANSPONDERS DO NOT WORK ON OUR SYSTEM
I have entered one of your events, when will the schedule for the weekend be published?
We go to a great deal of trouble to minimise issues for riders that have entered two classes to make sure as much as possible that they don't end up in back to back races. Obviously it's impossible to completely eliminate this but we do try our best to accommodate everyone's needs where we can.
Therefore we cannot publish the full schedule until the last online entries are in. Entry closes for most events the Sunday before so we aim to email all entered riders with a Riders Pack as soon after this as possible.
The Rider Pack contains not only the full planned running schedule but also the Paddock Layout plans and other relevant information we feel you may need to get the most out of the event.
I see you have reintroduced Dyno Testing for this season, how does this work?
Yes, we have enlisted the help of Mini Bike Dyno to provide this service trackside over our race weekends. During the Practice days and Race Day up to the end of qualifying, The Dyno will be available for setup and diagnostic work.
During the races, it will be used to check the stock class bikes are complying to the rules for the class. Either or both the fastest lap and a random rider will be tested to make sure their engines comply with the class maximum limits. The limits set for each class and engine have been shown in the classes set regulations which can be found HERE
Im told you run 2 grids for the popular Pitbike Classes, how does that work?
Yes, the Stock 140 and Stock 160 pit bike classes are very popular and we regularly have up to 60 entries each for these classes. To make sure that everyone is safe but also so that they all get a chance to race in the same championship we run a split grid system.
During Practice and qualifying we separate out the entries into 2 Groups based on ability, this is done by the Race Director prior to the meeting, taking into consideration the riders previous finishing positions and also their personal knowledge of the individual riders etc.  The slower riders will be placed in Group 2 and the faster riders in Group 1.
The lists of riders that have been allocated to each group will be published in the Riders Pack emailed to all entered riders and also will be on display at the circuit.
The riders will Practice and qualify in the groups they have been allocated to. Once Qualifying has taken place the times for the two groups are merged together and the faster riders will Race in Group A and the slower riders Race in Group B.
Progression:
A rider who wins Race 1 in Group B has the choice to join the back of Group A for Race 2. This allows them to race for the higher point-scoring positions and also allows the faster riders that have had a bad qualifying session to still recover into Group A for Race 2.
In these big grid classes, we run points from 60 for 1st place down to 1 point for 45th. This means the riders in group B are still racing for championship points.
This system is extremely flexible and allows all to take part in the championship fairly whether there be entries enough for 1 group of two.
I renewed my 2020 membership including the Lease of a BMB Mylaps transponder ready for the 2021 season, how do I get my transponder subscription renewed?
We try to maintain a database of all the riders Transponders inc the Transponders leased to riders through the Members Discount scheme. If we have your name on the database we will contact you if it is due to or has expired before an event with the instructions on how to reactivate your transponder so it is ready to use.  If however when you come to charge your transponder it constantly flashes red please contact us at info@britishminibikes.com asap and we can check the lease has been renewed and then send you the details on how to re-activate the transponder ready for use.
Here's a link to the BMB Transponder Database Form, if you haven't already submitted one please do so as this helps us tremendously during an event if we have unallocated transponders. Even if you have your own Transponder not leased through the BMB Discount scheme, please still fill in and submit the form so we have a record of what Transponder number belongs to each rider.
I leased a BMB Mylaps Transponder through the members Discount scheme but no longer require to use the transponder, what do i do?
If when the transponders subscription needs renewing and you haven't renewed your membership we will contact you. If you no longer require the transponder please contact us at info@britishminibikes.com and we will arrange for a courier to collect the transponder including its box, bracket, charging cradle, and cable from you.