Throughout the 2021 season we have been talking and listening to our Riders from each class and Myself and the team have been working tirelessly since the end of the season to try and implement as many of the suggestions put forward as possible to help improve the championship in the areas that were highlighted by riders inputs. 
We will never get it 100% right for everybody but please be assured we will always keep trying to improve and keep moving forward.
2022 CALENDAR
Below is the confirmed 2022 Rich Energy British Mini Bikes Calendar.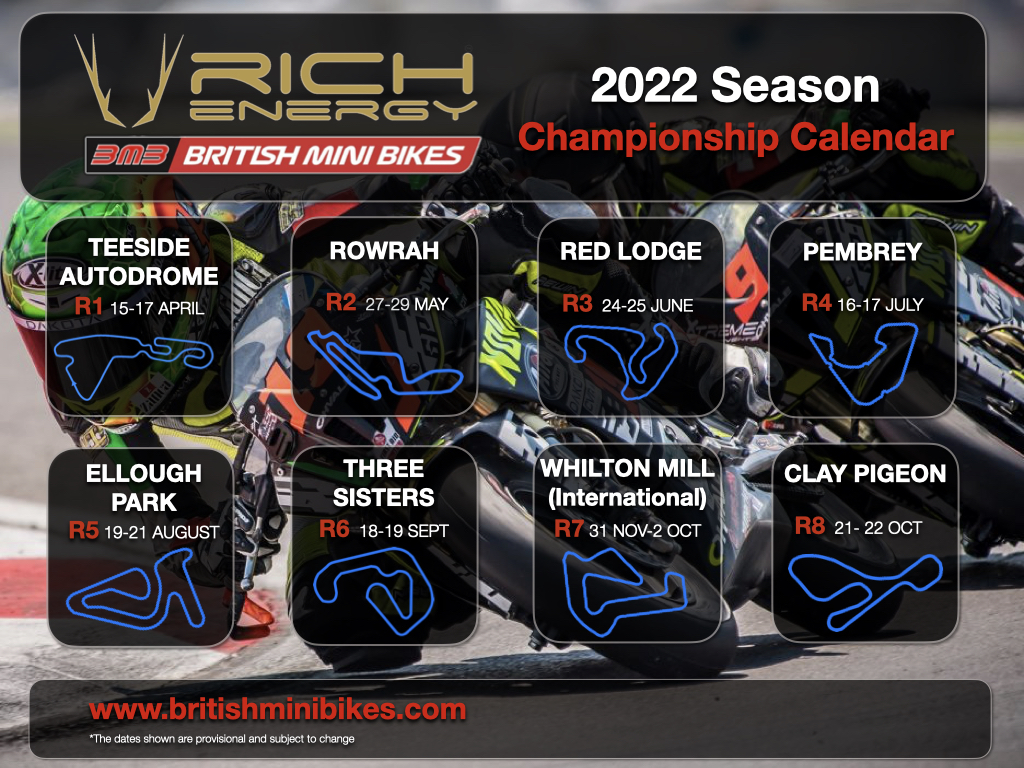 In a bid to keep overall costs, inc travel etc, down, we have reduced the amount of rounds from 10 to 8 which are to be held between the months of April & October. 
NEW EVENT
FORMAT
It was obvious from the feedback gained from the senior riders that the format trialed for 2021 was in the most part, very unpopular. It was designed to offer more racing and less practice which was asked for, however when put into effect failed to impress. Obviously we can't accommodate everybody's wishes but this new format does address most of them.
The Format is designed to maximise track time . It also allows some breathing time to help recover from Redflag issues etc with minimum effect on races.
SATURDAY
PRACTICE 1 
PRACTICE 2 
QUALIFYING 1 
QUALIFYING 2 
SUNDAY
WARM UP  
RACE 1 (8 – 12 Laps)
RACE 2 (8 – 12 Laps)
RACE 3 (8 – 12 Laps)
(Session times and laps may vary depending on weather conditions & each circuit length etc.)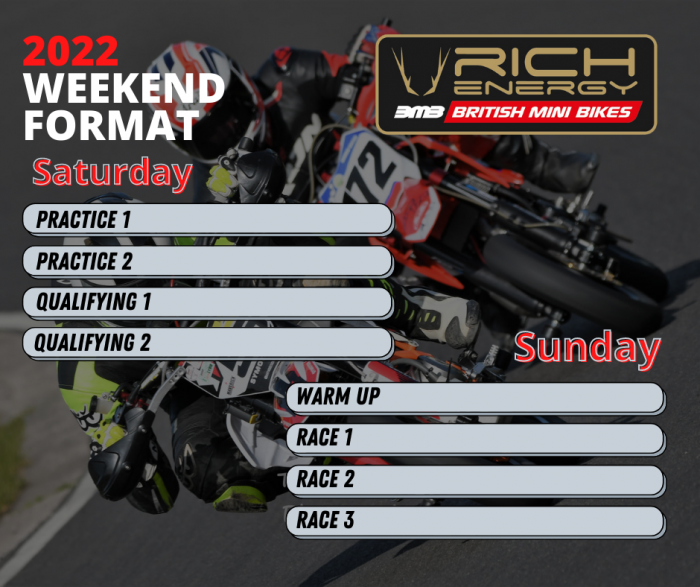 The benefits of running 3 shorter races over 2 longer races.
Less waiting/downtime between riders sessions. 

Shorter Races mean less lapping of slower riders by the leaders which improves safety with fewer incidents.

All races can be filmed / broadcast.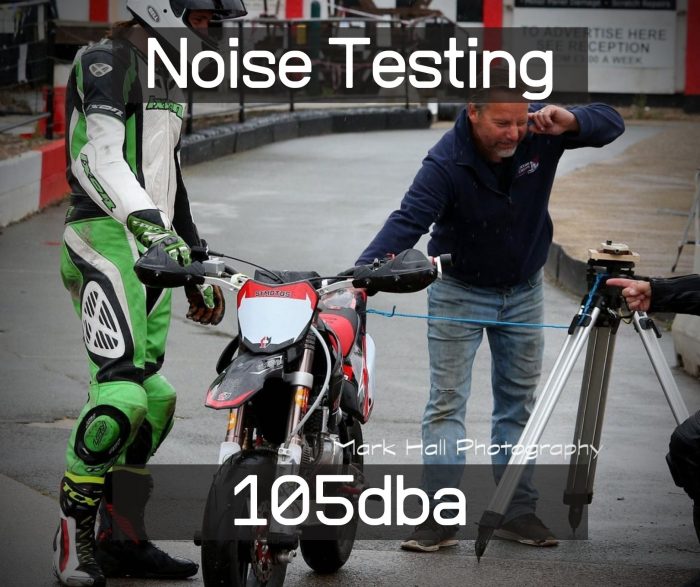 NOISE TESTING & ENFORCEMENT
Nearly all the circuits we are racing at this year have complained that we are far too loud and must reduce the levels or we won't be able to continue racing with them.
We have no wish to go to the major step of enforcing particular styles/types of end cans as this isn't as easy to police as it may seem as they all have to have a particular type of baffle fitted and some are more restrictive than others.
However, all will have to be a max 98 dba when tested in a drive-by test and 105 dba in a static test. The static test will be taken at 50cm and 45deg from the exhaust outlet and taken at 4000 rpm 4 stroke machines and 4500 rpm for 2 stroke machines. Failure to meet this level will result in the machine not being allowed to take further part in the event until it does pass the test.
POLICING CONTROLLED CLASSES
INCREASED DYNO CHECKING
The trackside dyno testing will this year be by Race Dyno Services.
We will be stepping up the amount of bikes that are sent to the Dyno after each Race & Qualifying for compliance testing, including the Fastest lap and /or a Random from both Group A and B Classes which means we will be effectively testing the front, middle and back of the grids over a race weekend.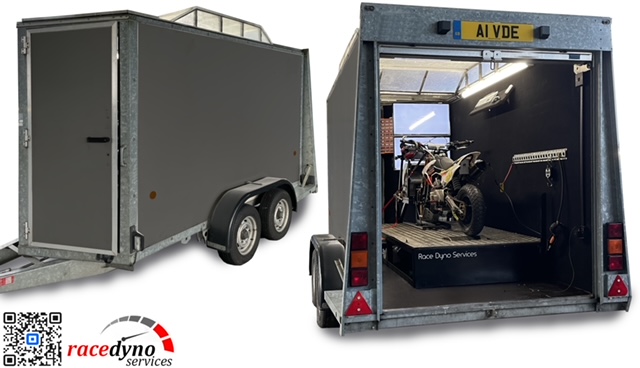 The limits set for each class will make for a level playing field for all riders as the limit is easily reached cost effectively and in-fact we would advise EVERY rider, especially if they are fitting adjustable ignitions etc to have their output levels checked to make sure that they do not exceed these limits as the limit is THE LIMIT with a tolerance already built in. Exceed it and you WILL be excluded.
As all Dyno's will show a different reading we would strongly advise that you have your bike tested on the Race Dyno Services equipment to make sure that you are running within the limits set for your class.
The Dyno results of anyone who fails testing and therefore are excluded, will be published on our website and social media pages.
ALLOWED MODIFICATIONS
From April 2022 onwards the controlled classes (not including the Ohvale Junior Cup Classes) engines will be limited to the following restrictions only unless stated separately in the class regulations.
They must be one of the homologated engine types set for the class
The Maximum BHP and Torque outputs set for the engine type must not be exceeded
The Exhaust noise emissions level must not exceed the static noise test level set.
No slipper Clutches (except Mini GP 190 & Supermini / Open classes).
This means you will be able to fit thinner gaskets etc to help improve your engine output as long as the engine does not exceed the stated limit for the engine type. This will enable everyone to compete on as close a playing field as possible at the minimum outlay.
HOWEVER, BE WARNED
If you exceed the output levels set for your engine by even a small amount you will be EXCLUDED and your points removed from the championship table up to the date of testing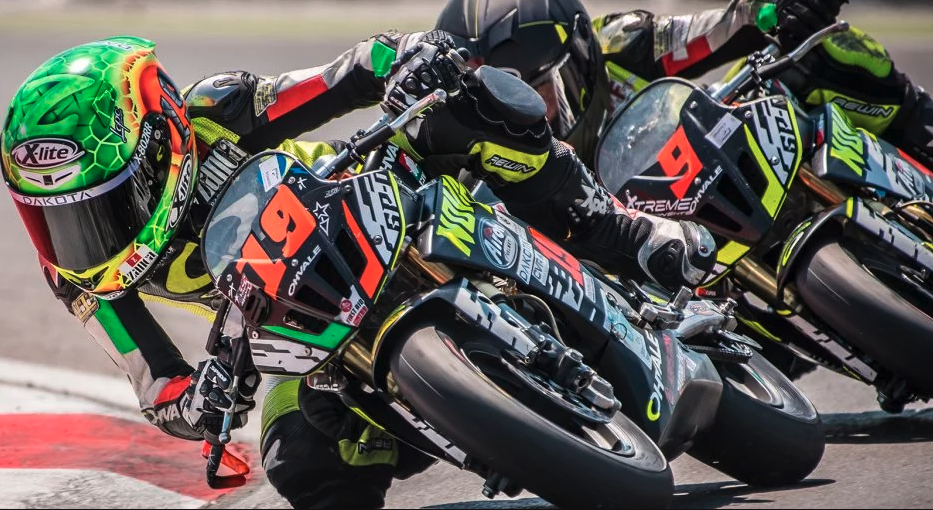 THE FIM MINI GP SERIES
We are currently waiting on the ACU and MSVR to confirm which circuits and the format that these events will be running.
Once finalised we will publish them on our website and social media pages.
MINI MOTO'S RETURN TO BMB
As with everything the championship evolves over time and last year saw a massive decline in the veterans class and an increase in demand for a pre 8-year-old class.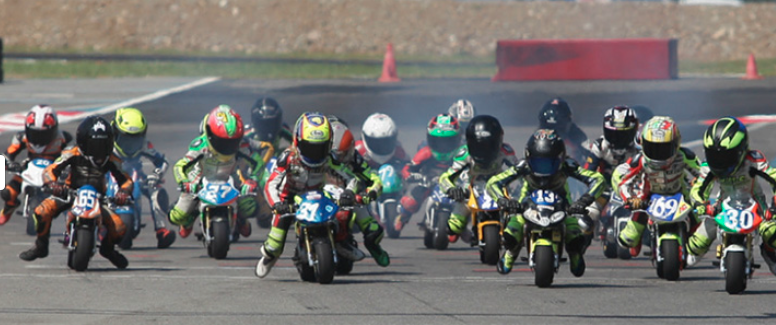 So to accommodate this we will no longer have a separate class for the vets and instead, they can enter the Mini Bike 160 Class as a veteran (as long as they meet the vet age criteria).
This has made room for the pre-8-year-old class which will be a stock Mini Moto Class for riders 6 to 13 years old. 
The idea is that we will have a Sports Bike style class for each age category from 6 to 14 years old.
The Regulations for this class have now been updated on the website HERE  .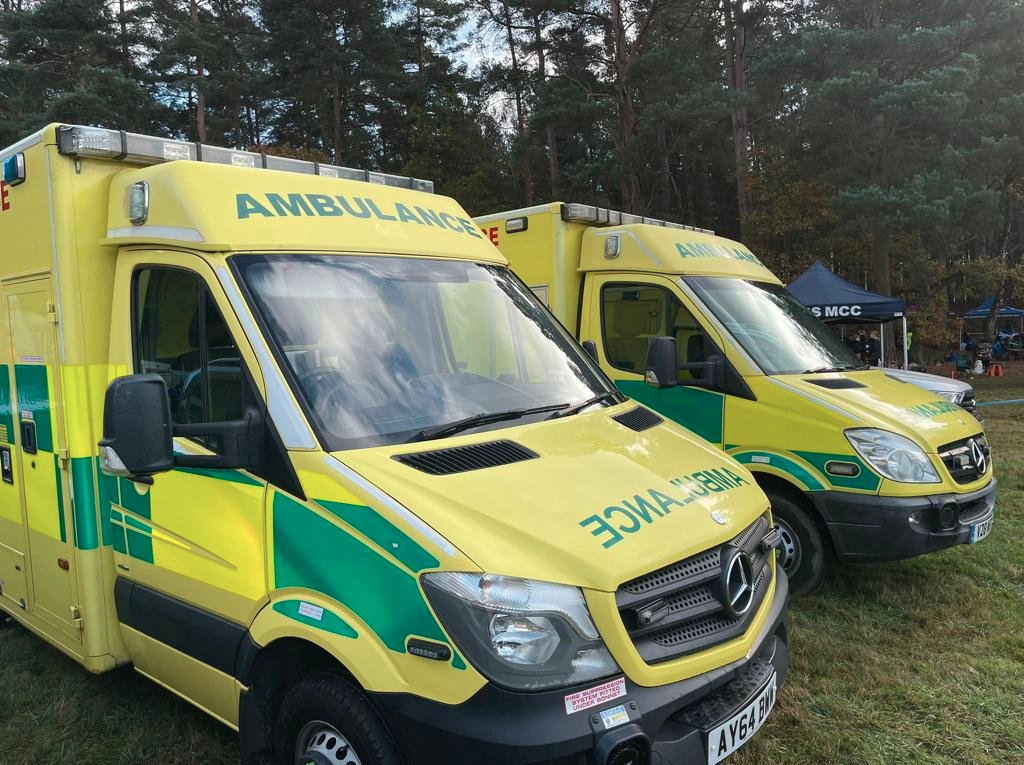 IMPROVED MEDICAL COVER
There is no denying that motorsport can be dangerous and therefore we feel that our riders should benefit from the best possible medical care when needed.
Therefore for 2022 onwards, we will be deploying 1 * Doctor, 1 * Paramedic (or 2 * paramedics when Doctor not available), 2 * Ambulance Technicians & 2 Ambulances at all rounds.
SAFETY OFFICER
It is with great pleasure we announce that Nick Weston will be the newly appointed BMB Safety Officer.
This role has been put in place to ensure that all events are run with safety of all competitors at the core of all we do.
Motorsport can be dangerous and the BMB is committed to doing all we can to keep our riders safe.  
New processes will be introduced to ensure that not only do events run smoothly and efficiently but when there is a problem, there is a clear procedure to deal with it.
Nicks experience within racing paddocks at a variety of levels allows him to bring a wealth of experience and insight to the BMB. Nick has also marshalled at club and national level. The BMB is grateful for Nick's insight, and we are looking forward to implementing the changes needed to make the championship a safer place for all.
A full list of the new procedures can be found HERE.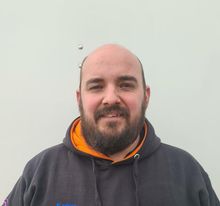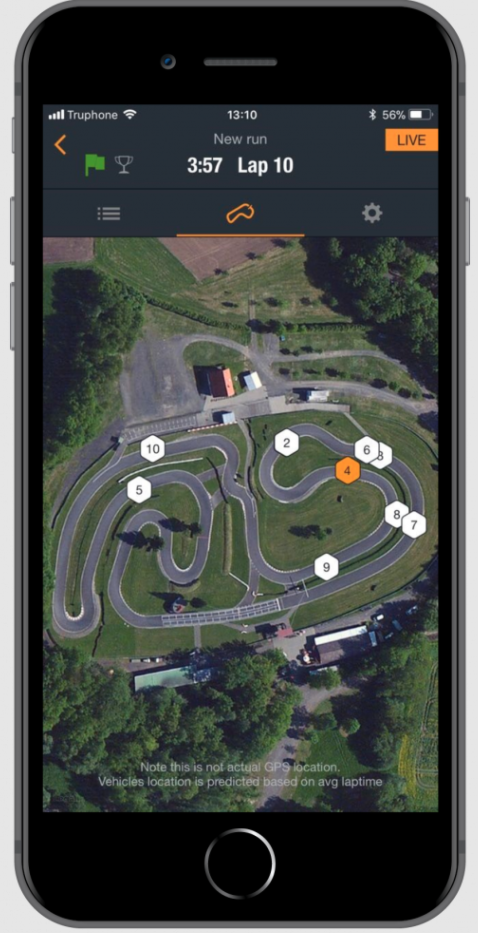 MYLAPS SPEEDHIVE TIMING SOFTWARE
This season will see us shift from the Alpha to the Mylaps Timing System. Although this uses the same Mylaps hardware the Speedhive Live Timing and Results layout is far more user friendly and easier to use.
You will be required to run your transponder for ALL TIMED SESSIONS, this not only helps us police the grids but also allows you the rider to thoroughly test your transponder is working correctly etc before we get to a critical session such as Qualifying or a Race. 
NO TRANSPONDER – NO POINTS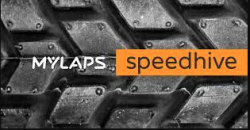 TRANSPONDER SUBSCRIPTIONS
We no longer include the mylaps transponder subscription in with the annual championship registration fee.
Instead please download the Speedhive App for your IOS or ANDROID device. You can then connect your transponder via blutooth following the instruction in the app. This will tell you how long is left on the current subscription and how to pay to renew it when it falls due. If you have any issues with doing this please feel free to email us at info@britishminibikes.com and we can guide you through it. 
If you need to purchase a transponder with subscription you may do so through the Mylaps website https://www.mylaps.com/ We use the Kart version but the Car or Bike versions will work equally as well. However the MX Versions do not work on our system.
We also have plenty of Hire transponders available at the meetings which can be booked at the time of entry if required.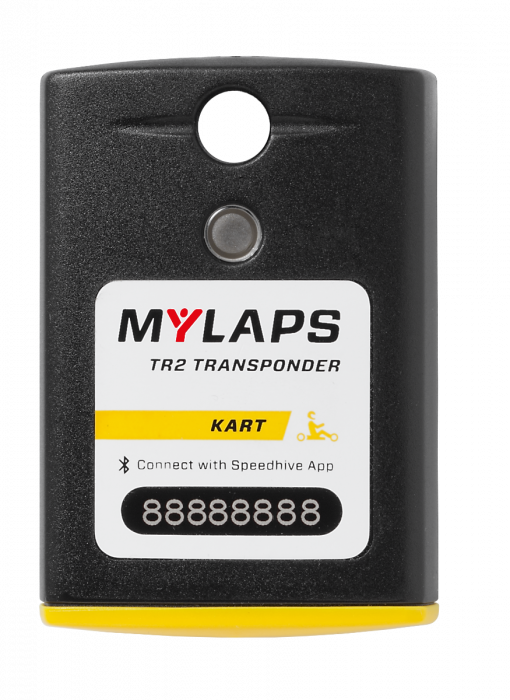 THE WHOLE RICH ENERGY BMB TEAM IS VERY EXCITED FOR THE 2022 SEASON TO GET UNDERWAY AND WE LOOK FORWARD TO SEEING YOU AT ROUND 1 – TEESIDE