We have listened to the Riders Reps from each class and Myself and the team have been working tirelessly since the end of the 2020 season to try and implement as many of the suggestions put forward as possible to help improve the championship in the areas that were highlighted by riders inputs. 
We will never get it 100% right for everybody but please be assured we will always keep trying to improve and keep moving forward.
NEW EVENT
FORMATS
After consulting with the Riders Reps to try and react to the input and feedback gained from their riders we have come up with the following formats. Obviously we can't accommodate everybody's wishes but this format does address most of them.
SENIORS
The Format is Designed to maximise track time and not be affected by additional junior classes etc also creates more competitive (Race) track time for competitors.
SATURDAY
PRACTICE 1
PRACTICE 2
QUALIFYING 1
SATURDAY CUP RACE (separate championship)
Those doing the Saturday will get to take part in the new Saturday Cup Championship which we hope to attract prizes etc from sponsors for.
SUNDAY
WARM UP / QUALIFYING 2
HEAT 1
HEAT 2
FINAL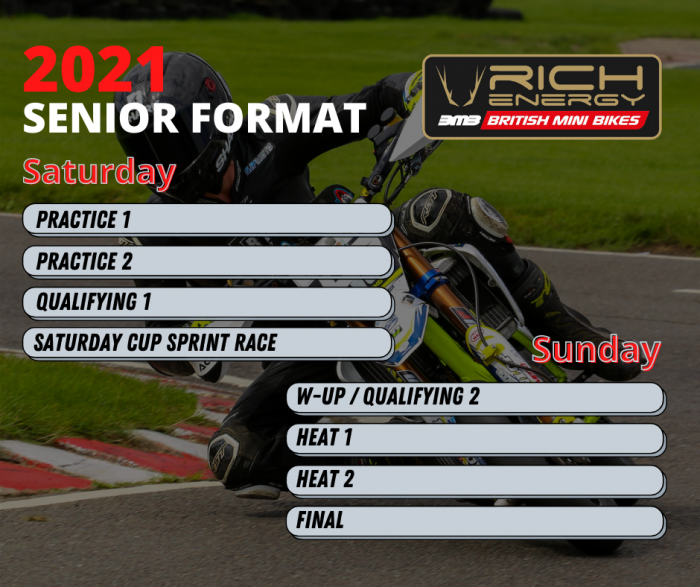 This allows those seniors that can't make Saturdays due to work / child care commitments etc to still take part in the main championship although they will have a disadvantage of having a shorter qualifying session in the morning and won't have been able to practice Saturday.
Both Saturday & Sunday qualifying times will be merged to find the grid position for Heat 1
Heat 2's starting grid will be taken from either the fastest lap or finishing position set in Heat 1 (this is being tested over the first few winter series Rnds to see which works best)
The Final's starting grid will be set by the highest points scored in Heats 1 and 2
Points for both the heats and the Final count towards the championship table.
THE ABOVE FORMAT GIVE US APPROX 58 MINUTE OVER RUN BUFFER TO ALLOW FOR INCIDENTS THROUGHOUT THE DAY  BEFORE THEY START TO AFFECT TRACK TIME ETC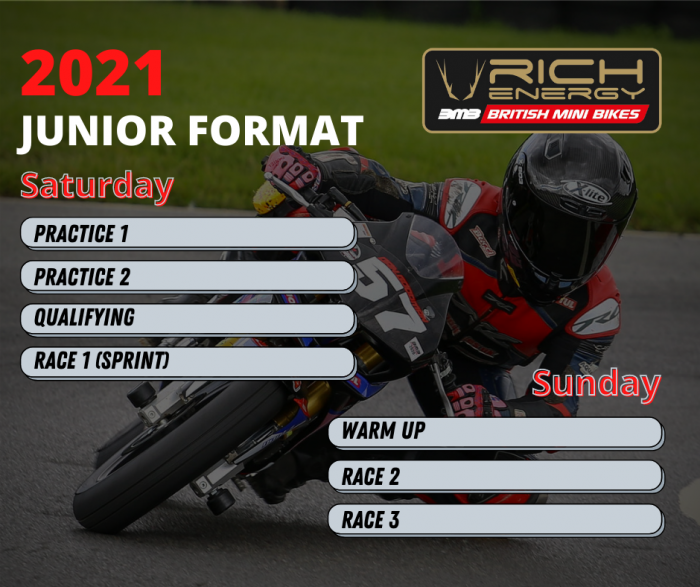 JUNIORS
This format is Structured to be as similar to BSB formats as possible.
SATURDAY
PRACTICE 1
PRACTICE 2
QUALIFYING
RACE 1
SUNDAY
WARM UP
RACE 2
RACE 3
Race 1 start grid will be determined by the fastest lap in qualifying
Race 2 Grid will be determined by the finishing position in Race 1
Race 3 Grid will be determined by the finishing position in Race 2
Points from all three races count towards the championship table
Trophies will be awarded to the top 3 riders with the highest points total in each class over the weekend.
THE ABOVE FORMAT GIVE US APPROX 58 MINUTES OVER RUN BUFFER TO ALLOW FOR INCIDENTS THROUGHOUT THE DAY  
BEFORE THEY START TO AFFECT TRACK TIME ETC
NOISE TESTING & ENFORCEMENT
Now the fall out from the lack of events and track availability due to Covid has settled down the tracks are starting to look at noise levels again.  Nearly all the circuits we are racing  at this year have complained that we are far too loud and must reduce the levels or we won't be able to continue racing with them.
We have no wish to go to the major step of enforcing particular styles / types of end cans as this isn't as easy to police as it may seem as they all have to have a particular type of baffle fitted and some are more restrictive than others.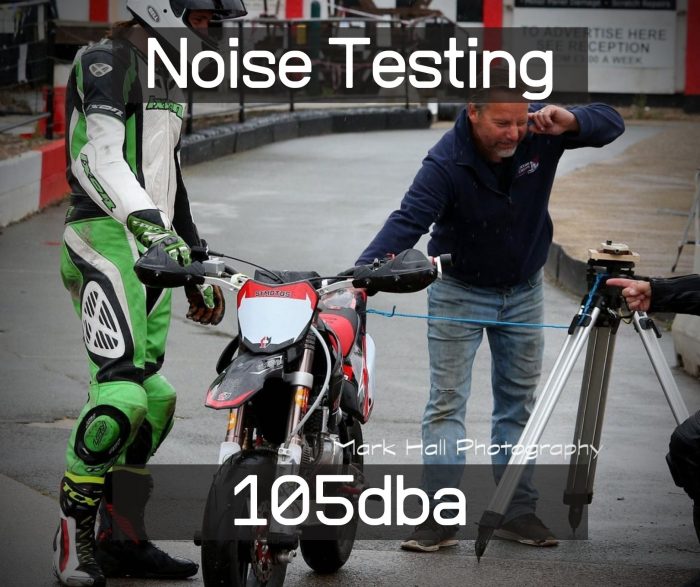 Therefore the plan is to follow the regulations set out by the ACU on noise control. This means that straight through exhausts or those with limited baffling will not pass the noise control limits required. These are 105dba static test at 50cm from the exhaust exit at 5500 rpm for a 4 stroke and 7000 rpm on two stroke machines.
We will be appointing an environmental officer who will be checking noise levels on each machine as they come in from their first sessions and also randomly throughout the weekend. Any machine that fails a noise test will not be allowed back on circuit until they have passed a retest and any machine which fails a noise test post qualifying / race will be excluded and will not be allowed back on circuit till it has passed.. 
With the increased baffling required to meet the noise levels it is anticipated for this to have a reducing effect on the BHP output levels achievable.
Myself and the Team along with Mike from Mini Bike Dyno are conducting tests to see what effect sufficient noise reduction baffles have on proven stock engines output. 
Covid restrictions allowing, we plan to have all the tests and therefore the relevant bhp / torque limits set by the end of December and will then be able to update the regs accordingly.
This will give everyone plenty of opportunity to make sure their bikes are compliant for both noise and output levels before the 2021 season kicks off in April.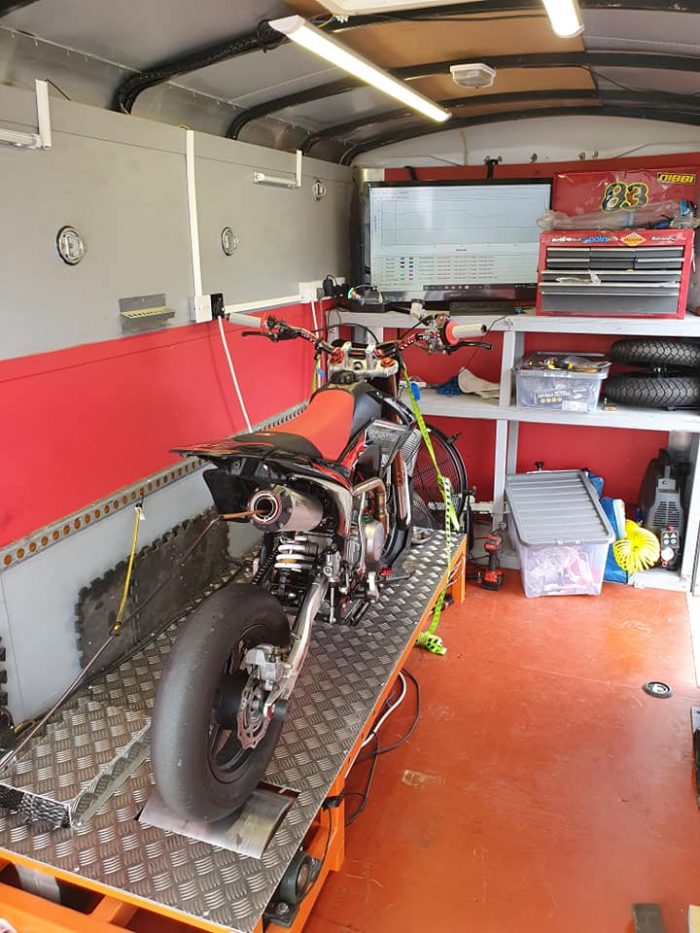 POLICING STOCK CLASSES
INCREASED DYNO CHECKING
We have found over the last four years exactly how hard it is to police the stock classes. It's proven almost impossible to correctly strip and check one bike trackside let alone multiple bikes within what is a budget sport.
The Dyno was re/Introduced this year with the service provided by Mike Carr from Mini Bike Dyno, which has proven very successful. The method of testing has been perfected so no matter what the bike, gearing, wheel size or atmospherics the results are consistent. Along with the BHP Limit a max Torque output has been set also.
We will be stepping up the amount of bikes that are sent to the Dyno after each Race & Qualifying for compliance testing, including the Fastest lap and /or a Random from both Group A and B Classes which means we will be effectively testing the front, middle and back of the grids over a race weekend. 
As stated above, Mike at Mini Bike Dyno and myself are currently evaluating the effect correct baffling will have on output levels so that we can adjust the current limits where or if necessary. Covid restrictions allowing we plan to have this testing complete by the end of December so we can start the new year with all the details and regs in place in plenty of time ready for the start of the 2021 season in April.
The limits set for each class will make for a level playing field for all riders as the limit is easily reached cost effectively and in-fact we would advise EVERY stock class rider, especially if they are fitting adjustable ignitions etc to have their output levels checked to make sure that they do not exceed these limits as the limit is THE LIMIT with a tolerance already built in. Exceed it and you WILL be excluded.
SEALED ENGINE CLASS
We have looked into and are still researching a sealed engine class but although seemingly simple it isn't, as there are so many variations in engine output that 20 engines from the same batch etc can have massively different outputs. Also besides sealing engines there are so many other variables that would need to be policed such as carb, cdi & exhausts etc all of which would need to be checked after every session to ensure a level playing field.
We are still investigating this option and if we can find a workable solution and options we will, of course, introduce a group within a class to test its viability with the option for it to be adopted in the future. If riders feel that they have reasonable suggestions as to how this could work and would be prepared to help out in policing and implementing it please get in touch via email to info@britishminibikes.com.
ALLOWED MODIFICATIONS
From April 2021 onwards the stock classes (not including the Ohvale Junior Cup Classes) engines will be limited to the following restrictions only unless stated separately in the class regulations.
They must be one of the homologated engine types set for the class
The Maximum BHP and Torque outputs set for the engine type must not be exceeded
The Exhaust noise emissions level must not exceed the static noise test level set.
No slipper Clutches (except Mini GP 190).
The ignition system can only be modified/mapped from within the stator and not via an external switch or mechanism
This means you will be able to fit thinner gaskets etc to help improve your engine output as long as the engine does not exceed the stated limit for the engine type. This will enable everyone to compete on as close a playing field as possible at the minimum outlay.
HOWEVER, BE WARNED
  If you exceed the output levels set for your engine by even a small amount you will be EXCLUDED and your points removed from the championship table up to the date of testing.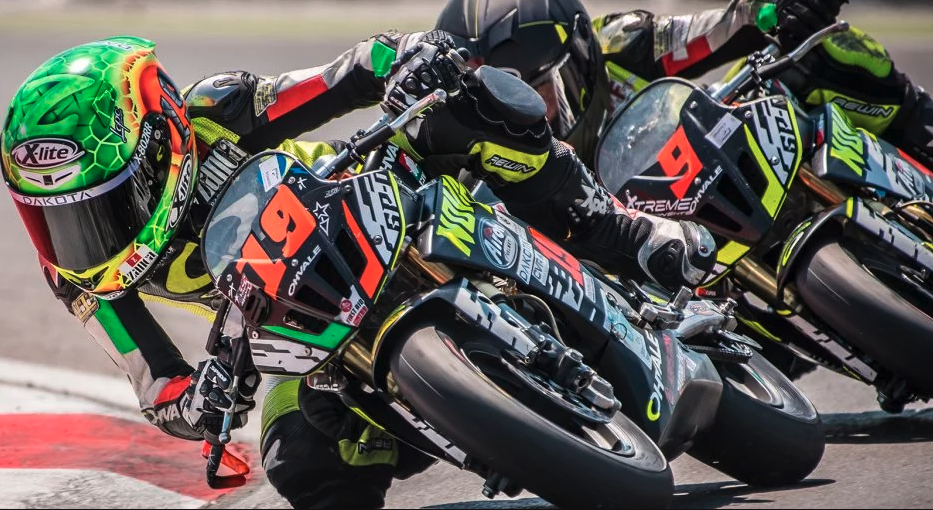 THE OHVALE 160 CUP
After the massive success this year of the first ever official Ohvale Cup in the UK, we are pleased to announce the upcoming Launch of the Official Ohvale UK 160 Cup in the next few days.
Although it has not been officially announced yet we already have quite a large group of riders that have purchased the bikes ready for the season, with several new riders joining the championship and others moving up after their success in the 110 class.
The amount of interest Ohvale UK are getting for all bikes not just the new 160 class is amazing
This is definitely the fastest growing form of  motorcycle racing for juniors not just in the UK but world wide. We aimed to have 15 bikes on the grid in the 110 Cup by end of the 2020 season and we had that at Rnd 1!  and in-fact ended up with 20 registered riders for the class. From the amount of kids joining for 2021 I think we wont be far off that for the 160 cup as well by the end of 2021.
If you would like to get involved in the Ohvale 110 or 160 Cup please either contact us at info@britishminibikes.com or Ohvale UK at  ohvaleuk@yahoo.com
WATCH OUT FOR MORE EXCITING ANNOUNCEMENTS ON THE OHVALE CLASSES COMING VERY SOON
BETTER PADDOCK COMMUNICATION
As most of the circuits we run at have patchy tannoy coverage we are testing several notification options including a dedicated paddock whatsapp group.
All Paddock announcements, penalties and results will be communicated to the riders via the group. 
We will also be testing an FM Radio broadcast into the paddock with all paddock announcements etc which if proves succesful will mean all riders will be able to received these on a Vehicle or Portable Radio system which will mean announcements direct into your awning.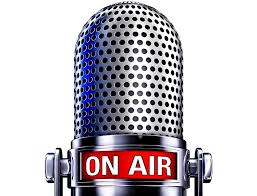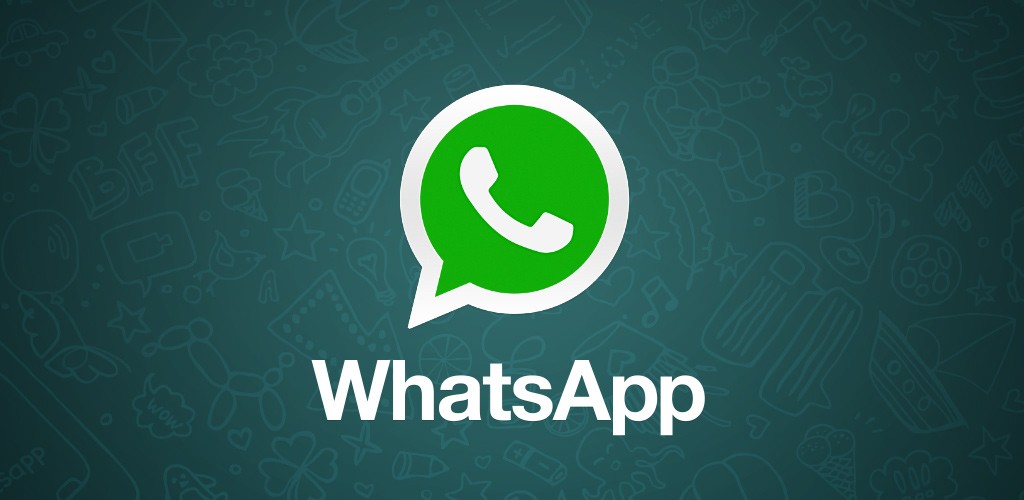 NEW STOCK 140 RIDER REP
Following Scott Mcgiverns resignation from the role at the tail end of the 2020 season. We are pleased to welcome Matt Lockyer as the new Rider Rep for the Stock 140 class.
Matt has been riding with the BMB for some time now and has quite a bit of experience within the sport. We feel that his very likeable and approachable personality mixed with his no nonsense  manner makes him ideally suited to the role.
Also having acted as a Scrutineer for the Clay Pigeon Pitbike Series he fully understands the difficulties and challenges faced in policing the sport.
We would like to thank Scott for all his efforts in the role previously but don't worry Scott will still be around the paddock and will be helping the championship out in many ways.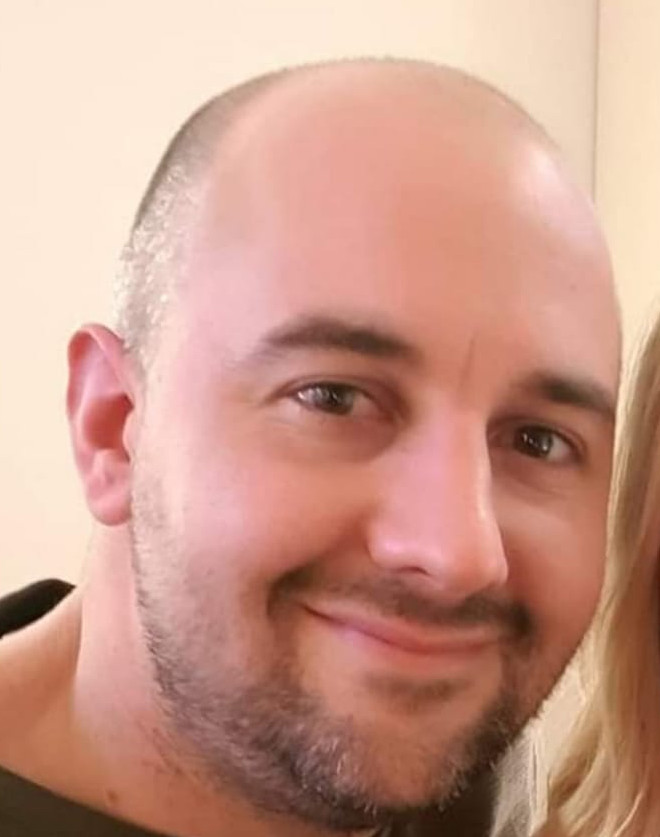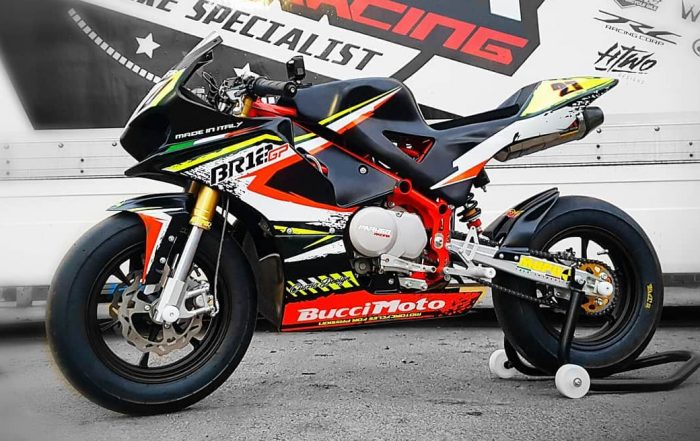 BUCCI 190 CUP
Bucci Moto UK will be holding a separate Cup for their Bucci Mini GP Riders inside the ever growing Rich Energy BMB Mini GP 190 class.
The riders will still be competing and scoring points in the Rich Energy BMB Mini GP 190 class but also taking separate points to the Bucci 190 Cup.  Although this will be managed and administered for their riders by Bucci Moto UK themselves, we are really looking forward to helping develop the brand and class further.
Bucci Moto UK is run by Arron Parker from championship sponsor and trackside support provider Parker Racing Pit Bike Specialists.
For more details please contact Arron by email parker_racing@hotmail.co.uk
The Michael Laverty Visiontrack Academy
is the first of its type in the UK, mirroring successful programs that have been running in Europe for many years. The selected 6 riders will compete in the BMB and have guidance, support, and off track opportunities to further their experience within the sport and help push them to their 2 wheeled ambitions.
Both a Tianda 300 junior supersport bike and also a Honda moto 3 bike have been purchased for academy riders who are showing good progression to jump on and ride when Michael and the team identify them as being ready for the next step. These bikes may also be used to enter wildcard events in the BSB for the selected academy riders. 
Away from the selected few, Michael and title sponsor Visiontrack will put on track days for all BMB junior registered riders to gain experience and work along side some of the best riders in the world who will come along as guest coaches throughout the year.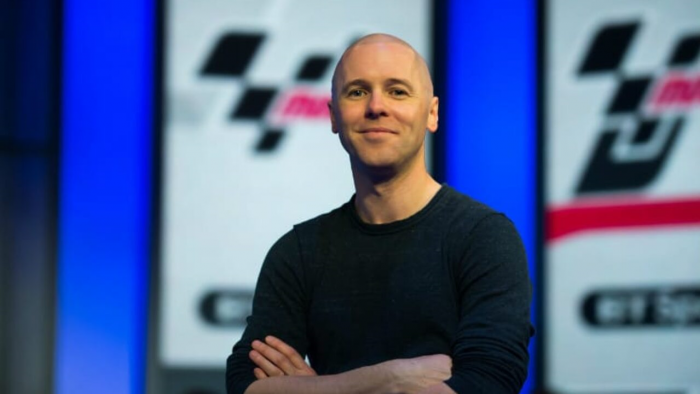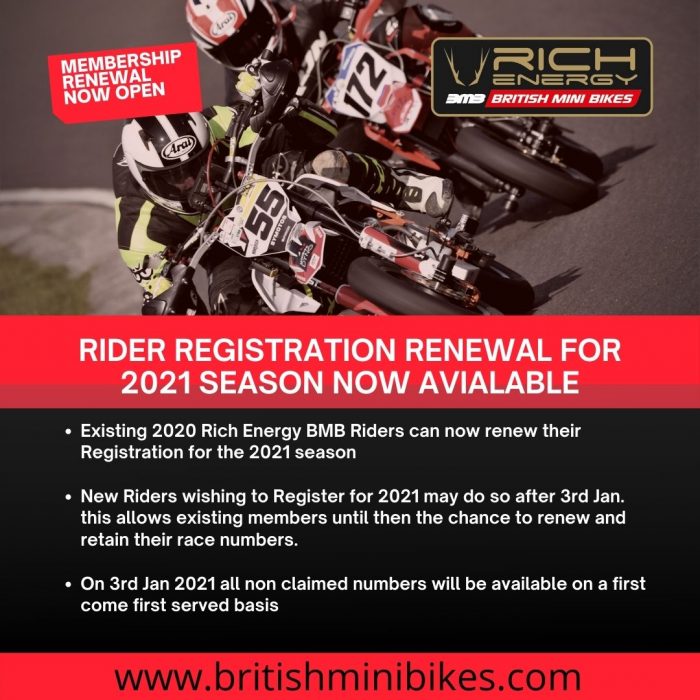 2021 RIDER REGISTRATION
Registration for the 2021 season is now open for existing registered riders, with registration for new riders  opening on 3rd January 2021.
This gives existing riders 10+ days to renew their registration and retain their race numbers for their class. 
On 3rd January registration will be opened to everyone and any unclaimed numbers will be available for everyone to register on a first-come-first-served basis.
Riders that renew including the lease of a BMB Mylaps Transponder will have their subscription automatically renewed when it falls due.
All the available registration options for both existing and new riders are detailed at the link below.
MORE EXCITING ANNOUNCEMENTS ABOUT THE 2021 SEASON WILL FOLLOW SHORTLY AS THE DETAILS ARE FINALISED